"Post - It Notes" for patients.
Patient Sticky notes are to assist detail remembrance outside of clinical record providing a vivid visual reminder.
Can be customised with position and colour as well as text.
Sticky notes are highly visual.
Persists
Position
Colour
Text
There are endless use cases.
  1. Reminder of pending ....any item.............. that needs to be discussed with patient at next presentation.

  2. Highlight / Point to reminders and tasks buried in the clinical record.

  3. Questions to be asked at next consult

  4. Reminder for salient points from todays discussion

  5. Visual note on something for next visit.

Patient Sticky Notes are not part of patient clinical notes - you can avoid polluting clinical notes with irrelevant notes / jottings / ideas.
Each user has sticky own Sticky Notes for individual patients.
Important information
All medical record relevant information must continue to be stored in patient clinical records.
There is no restore ( undelete ) of deleted sticky notes.
Instructions
Start Sticky Notes from DCP Functions panel


Sticky Notes Form
The sticky Notes form is not topmost all the time like DCP but can be made to be topmost by double clicking on it.
If topmost, a single mouse click on it will make it behave like a normal window so that clicking away from it will allow it to go behind other windows.
If the Sticky Form is not visible, it will become visible when opening a new patient that has stored sticky notes.

The form can also be accessed by clicking in the taskbar

Create a new Sticky Notes
Clicking on the New Sticky note button will create a new Note
New notes can also be added by clicking on the [+] on an existing Note.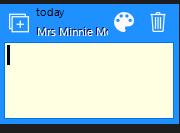 Simply Enter a text note. Text save automatically.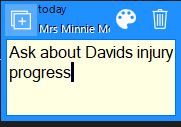 Text is saved encrypted in the azure cloud datacenter in Victoria.
Configure a Sticky Note
Change colour - click on the pallette then on the desired colour.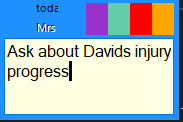 Change size - drag the border to resize.
View all Sticky Notes
Click on the List button on the Stuicky Note Form.
Double click on items to open the patient in clinical software.
Exprot list to Excel if desired.

Auto Start
Use appearance page - startup options of configuration to set Sticky Notes to start automatically (delays start by 1 minute).